Our favorite iPhone apps, learning tools, musical toys and games for toddlers and children.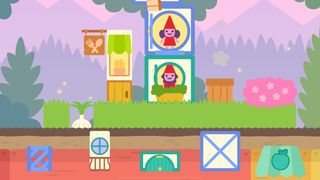 Sago Mini Village
In the hands of a kid, Sago Mini Village becomes a thing of wonder. It's reportedly inspired by Minecraft, but clearly knows how to engage and cater for very young children. The interface is elegant and usable,there are no ads, it's possible to play offline, and all of the surprises within the game are of a delightful kind. And as an added bonus, after a major building session, there's nothing to tidy away!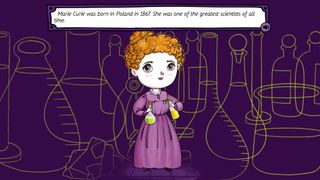 Women Who Changed the World
The stories are approachable, providing useful facts, but not deluging children with too much content. The illustrations are bright and adorable, and many scenes in each story have interactive elements, such as being able to drag Earhart's plane around.
There are a few niggles, most notably that it isn't always obvious what should be done to move the story on. However, this low-cost, advertising-free introduction to such important subject matter is a must-download app for any kids (small or large) who'd like a grounding in the achievements of some of history's most brilliant and brave women.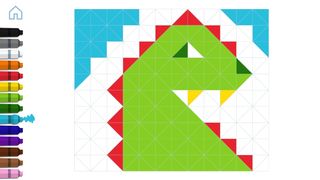 Zen Studio
Free + $2.99/£2.99/AU$4.99 IAP
The app's canvases are triangles that you color in with a tap and emit a note whenever you do so. Drag out a line or tap a few triangles in quick succession and you're treated to a little melody. It's all very 'zen'.
You get the bulk of the app for free, but pay the one-off IAP and it opens up in useful ways: white paint for 'deleting' colored triangles; a range of template-based tutorials; and unlimited save slots. You might feel 'zen' about not splashing out, but this is an app that's well worth paying a few bucks for.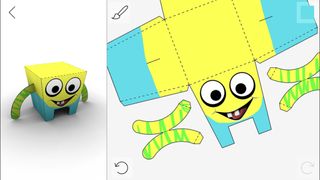 Foldify
The interface is first-rate. You kick things off with a template – anything from basic cubes to little blocky people, cars and arcade machines. You then scribble all over that with a pen tool, slap on stickers, and import your own images. All the while, you can admire your handiwork as a little 3D model that's updated in real-time and can be spun with a flick.
There's also a social aspect for sharing your creations and downloading other people's works – including amusingly cuboid takes on Steve Jobs and the original Mac.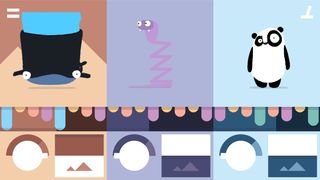 Bandimal
It involves loading animals into one of three available slots, and tapping out notes on a dotted grid. When the playhead moves over the dots, a sound plays, and the animal bops along accordingly – such as a whale blowing colored water while emitting suitably deep bass noises.
It's relentlessly jolly, sounds superb, and automatically stores every song you make. And as if to cement how perfect the app is, load one of your songs and the animals count in before it starts playing.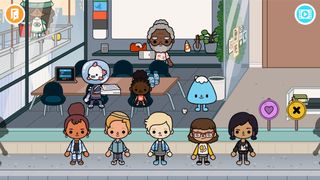 Toca Life: Office
Here, tiny fingers can dot 35 distinct characters about the place, and role-play in an office, bank, rooftop, courthouse, and apartment. There's a virtual daycare, a swanky glass elevator, and a bank vault with an alarm.
You can draw on a whiteboard, print from the computers, discover a helicopter, and even make superheroes. Chances are you'll want to try this out yourself when your kid's done, too, if only to imagine how exciting your own office life could be.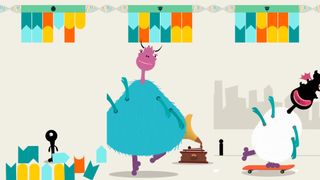 DNA Play
The app begins with you completing simple 'gene' puzzles, which see you dramatically adjusting a monster's characteristics, and this can be done by simply hammering away at a body part to switch it for something new - ideal for less dextrous younglings. Each monster can then be saved and its photo shared.
Occasionally, objects show up, giving you the chance to propel your monster along on a skateboard, feed it a pile of fruit, or have it totally freak out when faced by a spider significantly less terrifying than the monster. But best of all, if you get caught playing with the app yourself, you can argue you're in the midst of an important scientific breakthrough. Probably.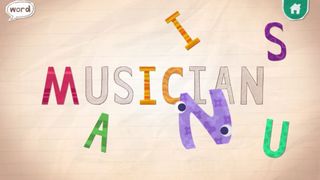 Endless Alphabet
On your child selecting a word, monsters sprint along the bottom of the screen, scattering its letters. They then need to be dragged back into place, coming to life as they're moved. When a word's complete, monsters act out what it means in a charming animated cut scene.
There are some minor grumbles here and there – the app's resolutely US-English in nature, and the sounds letters make when dragged might confuse, since they're not full letters nor the phonics often used in education. Otherwise, this is a first-rate, charming, enjoyable educational app for youngsters getting to grips with words.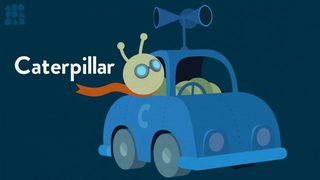 Metamorphabet
If you've seen tiny humans around iOS devices, you'll have noticed that even those that can't speak beyond bababababa and dadadadada nonetheless merrily swipe and poke at screens.
It starts off with A, which when poked grows antlers, transforms into an arch and goes for an amble. Although a few words are a stretch too far (wafting clouds representing a daydream, for example), this is a charming, imaginative and beautifully designed app.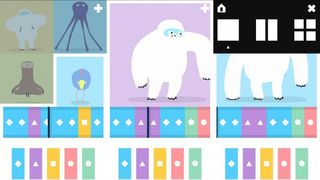 Loopimal
Hit play and you're immediately shown an animal bobbing its head to a backing track. You then drag coloured pieces (from a selection of five) into eight empty slots. When the playhead moves over the shapes, the animal adds its own sounds and melodies, often while performing impressive gymnastic feats.
It's Loopimal's character that initially wins you over. Unless you're dead inside, you won't fail to crack a smile when an octopus starts playing funky basslines with its tentacles, or the percussive Yeti gets all stompy. Smartly, once the player clocks how Loopimal works, the screen can be split into two or four, to combine animals and their unique sounds.
The one big miss is the inability to save your compositions, but every Loopimal riff is in C-major; this means you can use just the white notes on nearby keyboards to play along with whatever madness is happening inside the app.
The best new apps around today
The best music and audio apps for iPhone
Our favorite iPhone apps for making music, listening to podcasts and being a DJ.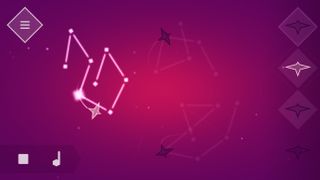 Songbirds
Songbirds
is a set of three artistic vignettes that are part meditative aid, part musical instrument. Each of them finds you crafting melodies by directing digital birds across vibrant, minimal scenes.
The best of them is called The Sky. It has you draw pathways akin to constellations, each 'star' playing a note when a bird moves over it. With support for up to four simultaneous melodies, you can craft surprisingly intricate sounds, and if you make something you love, tap record to output a video.
The other two options are The Lake, where you control the timing of birds diving into water, and The Flock, in which you use square 'moons' to record compositions played out on abstract keyboards. Neither quite matches the intoxicating joy of The Sky, but together, this collection is calming, engaging, and beautiful.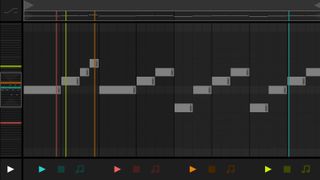 Fugue Machine
Fugue Machine
is a tool for making music based on compositional techniques used by Bach. That perhaps sounds dry, but stick with us, because Fugue Machine makes it astonishingly easy to create beautiful audio.
You tap out notes on a piano roll, much like in GarageBand. The twist is that in this app, there's only ever a single loop, but with up to four playheads moving over it. Each playhead is controlled independently, and this means you can play your loop at different speeds and pitches simultaneously, and in different directions.
The interplay of several variations of a melody quickly becomes hypnotic. For beginners, it's a great way to start making music. For professionals, it's also a must – not least given that Fugue Machine ships with comprehensive MIDI, AUv3, Ableton Link, IAA, and Audiobus support.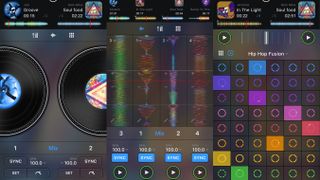 djay
Free + $4.99/£4.49/AU$7.49 monthly
djay
is a hugely powerful DJ app for iOS. Formerly released in various flavors, it's now universal and a free download. On install, you get a basic two-deck system with crossfader, looping, and some effects. Go pro, though, and a world of high-end DJ power opens up.
At that point, you can run up to four decks, and dabble in video mixing. You get over 1GB of samples, loops, and visuals to trigger. There's a ton of integration with a range of hardware solutions. Automix is available too, for when you can't be bothered doing the DJ work yourself.
On iPhone, it's naturally a bit fiddly compared to the iPad's relative acres – but it's also a very portable way to always have the app on you for experimenting with – and useful for hooking up to physical controllers.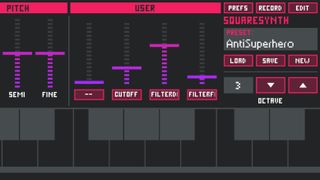 SquareSynth 2
SquareSynth 2
seems to have two reasons to exist. The first is to make you grin on selecting a preset, tapping a key, and having some retro audio blaze forth from your iPhone. The built-in sounds are reminiscent of noise you'd once have heard blasting from a Commodore 64 or NES; this in itself is all rather good fun.
But for musicians, this is a full-fledged synth. You can delve into each sound and muck about with its parameters – the results of which can be ear-thumpingly terrific. AudioUnit support also means this isn't an isolated box – the entire thing can essentially be squirted into GarageBand. Only the slightly awkward interface on iPhone when editing lets it down a touch – but the great sounds more than make up for that.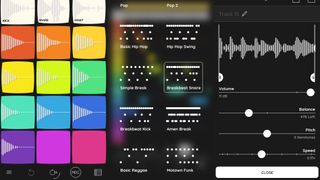 Samplebot
Samplebot
is a colorful grid of buttons that you use to capture sounds. Press a pad, make a noise, and it's then played by tapping the pad again. Fun stuff – but it turns out Samplebot has more layers than an onion.
Recorded sounds can be trimmed, and arranged in a sequencer. Pre-defined drum patterns are included, but you can also tap out your own. Beyond that, you can import audio from cloud services, Music, Files, or the clipboard, and manage sounds in-app. Tracks can be exported, and Samplebot can even be synced to other music apps.
In short, then, Samplebot is ideal for anyone wanting to make some noise, whether you fancy recording and playing back pots and pans being whacked, or creating entire songs.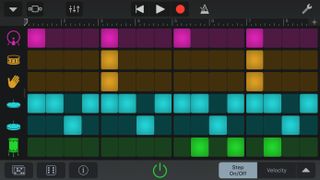 GarageBand
GarageBand
is a music creation app and recording studio. Ambitiously, it aims to suit newcomers and pro musicians alike – and it succeeds.
For newcomers, there are smart instruments that automate chords and riffs, and a grid pad for triggering samples and loops. Gain in confidence and you can plug in a guitar and use GarageBand's excellent range of amps, experiment with the timeline, and create drum patterns in the Beat Sequencer.
For pros, though, this app connects to other apps via Inter-App Audio and Audiobus, can 'import' entire third-party apps as Audio Units, and enables you to record, arrange and mix up to 32 tracks.
The app's a stunning achievement, and we suspect many long-time musicians can't believe such a thing exists on a phone.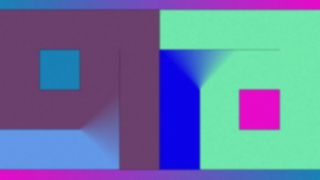 Brian Eno: Reflection
In a sense, featuring
Brian Eno : Reflection
in this round-up is a bit weird. Unlike other collaborations between musician Eno and software designer/musician Peter Chilvers, Reflection is broadly devoid of interaction. Instead, it effectively just plays Eno's ambient Reflection album, but with some clever twists.
Unlike the standard album, which is the same every time you listen, the audio here has phrases and patterns within that continually interact in different ways, and subtly change as the day progresses, creating an endlessly changing version of the music. Likewise, the painterly visual on the screen slowly morphs before your eyes.
It's pricey, but ultimately gives you endless Eno and is an intoxicating experience for anyone that likes their ambient fare. The man himself describes the app like sitting by a river: it's the same river, but always changing. By contrast, the standard Reflections album initially sounds similar, but it's a recording frozen in time, never changing.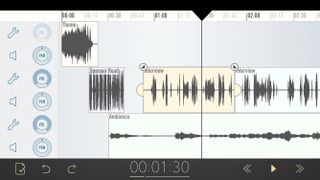 Ferrite Recording Studio
Free + $29.99/£28.99/AU$46.99
Ferrite Recording Studio
in its initial form appears similar to Apple's Voice Memos, but under the surface, this is a powerful multi-track editor. Pay the IAP and you get a full-fledged podcast creation studio right on your iPhone.
Of course, you don't have to delve into such complex fare. For free, you can work with a few tracks, make basic edits, and export your reworked audio. But pay money and you get eight-band EQ, a slew of effects, auto-leveling, and noise reduction. Project templates help you quickly create new podcast episodes, and presets can be created for chapters; said presets can be stored in templates or shared via iCloud.
This is top-notch stuff for creating podcasts on the go; and even if you usually edit on a PC or Mac, Ferrite works wonders as a sketchpad to bash out ideas on a commute.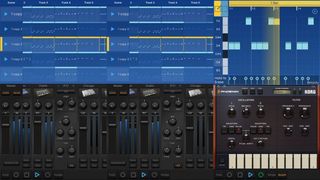 Korg Gadget
Let's immediately get one thing out of the way:
Korg Gadget
isn't cheap. It's not the sort of app you're going to download for some larks, use for a few minutes, and then casually toss aside. However, if you've any interest in making music — whether as a relative newcomer or jobbing musician — it is quite simply the best app available for iPhone.
Purely as a tool for live performance, Korg's app is first-rate. You get a bunch of miniature synths, referred to as 'gadgets'; they're geared towards electronic music, but still have plenty of range.
There are drum machines, a gorgeous bell synth, some ear-smashing bass instruments, and plenty of other options, whether you want to be the Human League for a bit or go all clubby.
Each synth comes with a slew of presets, but you can fiddle with dials and levers to make your own, which can be saved for later use.
When it comes to writing music, you can record live, tapping out notes on a tiny on-screen keyboard or by using a connected piece of hardware. Alternatively, there's a piano roll for tapping out notes on a grid as you do in GarageBand, creating loops to then combine into a song in the mixing-desk view.
Korg Gadget is one of the most flexible and intuitive music-making apps we've seen on any platform, and the deepest on iOS. It was superb on the iPad, but that it actually works — and is very usable — on iPhone is nothing short of astonishing.
The best new apps around today
The best office and writing apps for iPhone
Our favorite iPhone apps for file management, video memos, writing, email, spreadsheets, notes, presentations and calculations.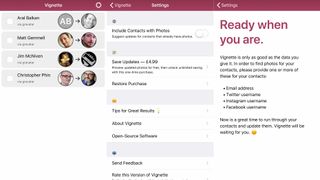 Vignette
Free + $4.99/£4.99/AU$7.99 IAP
Vignette
is the solution when you have a Contacts app full of blanks rather than faces, but can't be bothered to put in the work to fix this. Since other iPhone apps – including Messages and Mail – use these thumbnails, having them around can be a handy way to spot who's chatting with you.
That said, for Vignette to work, you need to give it a hand. It essentially rifles through each contact in turn, finding relevant images from their social media accounts. You can then choose to update a contact's thumbnail, or leave things as they are.
Neatly, Vignette does all the grunt work for free, so you can see whether or not it will work for you. Should you want to save thumbnails, only then will you need to pay the one-off IAP.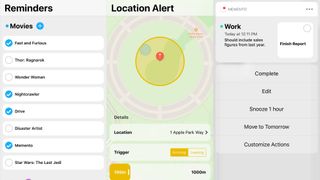 Memento: Modern Reminders
Memento: Modern Reminders
is a modern take on reminders, and feels a lot like the app Apple should have made itself. The interface is clean, with bold headings, and is peppered with tools to speed up creating and editing reminders.
A smart keyboard row makes it a cinch to add a time or location alert. The former have friendly options like 'tomorrow morning', and these presets can be edited and added to. Notifications are similarly powerful, with snooze and move options.
Browsing is superior to Apple's app, too. There are views to zoom through all your reminders (grouped by list), or just ones with time alerts attached. Add in dark mode and Apple Watch support, and you've got a superb replacement for a tired stock app.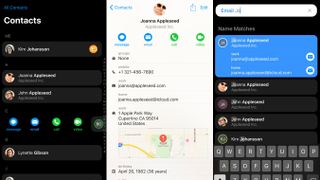 Cardhop
Cardhop
is designed to effectively replace Contacts on your iPhone. It uses the same iCloud information (so you can switch back to Apple's app at any point), but presents it in a far more usable manner.
Individual contact cards are more clearly laid out. Tapping on a phone number or email doesn't trigger a call or open Mail – instead, you get options regarding what you want to do with that data. The notes field usefully remains anchored to the foot of the screen, so it's always available.
Back in the main view, there's a dynamic search field that uses natural language, so you can input phrases to get at information, or to add new contacts. In all, this is an essential app for anyone who regularly dips into Contacts, but wants something better.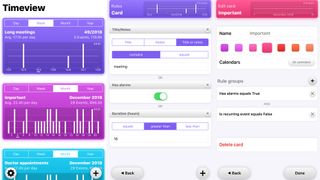 Timeview
Free + $4.99/£4.99/AU$7.99
Timeview
gives you alternate interpretations of and insight into your calendar data. Instead of events plastered across a day, week, or month view, this app is all about statistics, and presenting them as easy-to-scan cards.
The app delves into your existing iOS Calendar data, and the cards are based around user-defined rule-sets. That might sound complex, but it really isn't. You can, for example, quickly create cards to outline calendar events that include the word 'meeting', those from specific calendars, recurring events, and so on.
For light users of Apple's Calendar, this won't be especially thrilling. But we imagine if your calendar is a mess of entries, all fighting for attention, the means to make sense of the chaos with Timeview's straightforward, very readable interface will be very appealing.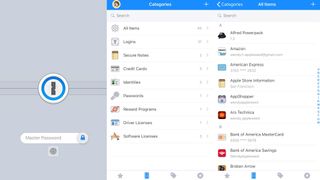 1Password
$3.99/£3.49/AU$5.99 per month
1Password
, like iCloud Keychain, is used to store website logins and payment information. But this app then goes further, being able to house details for servers, app license details, notes and identities.
The other big advantage is 1Password being a standalone app. Launch it and use Face ID or Touch ID and you'll quickly be browsing your logins and data, which can be further refined through the use of favorites and tags. A first-rate password creator is bundled, too, for when you need a new or replacement website password.
The core app is free to try for 30 days, after which point a subscription is required. However, this unlocks the app across a range of supported platforms, including macOS, Android and Windows – something iCloud Keychain cannot compete with.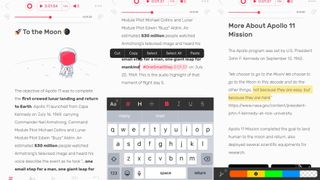 Noted
Free or $0.99/79p/AU$1.49 per month
Noted
is a rich-text notepad and voice memos app combined. This isn't a new concept on the iPhone – other apps do much the same. But Noted differentiates itself by enabling you to mark important moments within the recording.
This is achieved using #TimeTags. As you type up notes while recording, tapping a button places a tag inline. When you subsequently tap a tag, your recording instantly starts playing from the relevant moment. This means you can take basic notes during a meeting or lecture, and then flesh everything out later, without having to constantly scrub through a recording to find the relevant parts.
You'll need a subscription to make the most of the app – not least to record more than a handful of notes – but for many people, #TimeTags alone will be worth the outlay.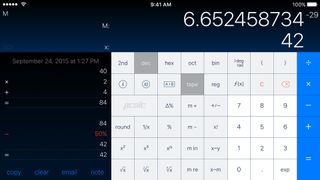 PCalc
PCalc
is a traditional calculator – like the super-powered equivalent of something you might find sitting on a desk. If you want something more conventional than the calculator meets sort-of spreadsheet
Soulver
, PCalc is simply the best there is on iPhone.
For a start, the app's almost absurdly feature-packed. There's multiline and RPN, a paper tape, and multiple undo. Need conversions and constants? Done. Engineering and scientific notation? Sure. You can even edit the individual buttons, if you for some reason want the 6 key to be massive.
The app has a slightly odd sense of humor, too. Head into the Help section in its Settings and fire up the ARKit About PCalc screen, and lob anti-gravity bananas about the place. This is a calculator with leaderboards and achievements, and – we say again – anti-gravity bananas. Buy it.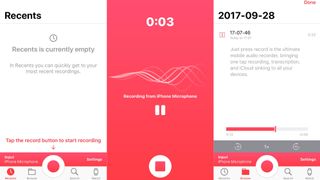 Just Press Record
Just Press Record
is a highly usable audio recorder and transcription tool. It's also an excellent example of how to take an app that's extremely simple and add new features without drowning it in complexity.
To start, you still tap a big, red button, and then record whatever you want to say. Saved recordings head to iCloud, meaning they can be accessed on any device. On your iPhone, they're found in the Recents and Browse tabs, the latter listing them by date.
There's also a Search tool – which might seem redundant until you realize every recording is automatically transcribed. Naturally, this doesn't always nail context – during testing, it mixed up 'synced' and 'sinked' – and you have to manually say punctuation (such as 'comma').
Still, this means that you can share text rather than just audio files, and that every utterance you make can potentially be found by keyword, instead of you scrabbling through a huge list of recordings. It's really smart stuff.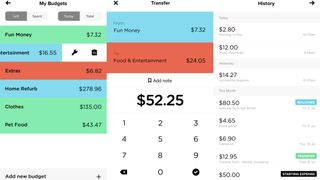 Pennies
Pennies
is all about managing your money. But whereas finance trackers have a tendency to be dry and complicated, Pennies goes for a much friendlier approach. Using the app's colorful, straightforward interface, you can quickly and easily define new budgets around any kind of topic, and add or remove money from them.
Much of the app's effectiveness lies in the way it encourages you to categorize your spending. Want to cut down on coffee? Create a 'coffee' category and get a monthly and daily budget, along with a visible reminder of when you can next spend.
Your entire history always remains available in an ongoing scrolling list, and because Pennies syncs across devices, your figures are readily available on iPad and Apple Watch too. In short, it's the budget tracker for the rest of us.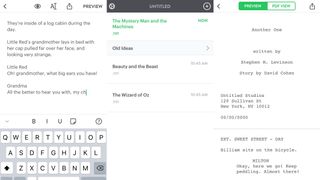 Untitled
Untitled
rethinks screenwriting. Rather than you having to remember how to format your next Hollywood blockbuster, Untitled prioritizes you getting ideas down, through providing a helping hand regarding how your script should look.
This works by way of simple-to-remember shorthand, such as placing dialogue underneath a character's name, or '>' before a transition. The app's also intelligent enough to reformat scene headers (intro/location/time) from plain English into the correct style.
On iPad, Untitled is a friendly screenwriting tool, but its relaxed, note-taking approach really feels at home on iPhone. It's not a tool you'd likely use to fine-tune a fully polished screenplay, but it's excellent for starting one – wherever and whenever inspiration strikes.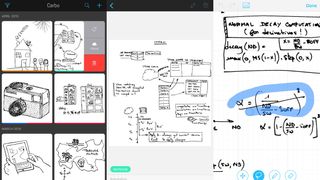 Carbo
You can of course use a wide range of apps for storing real-world scribbles – photograph a journal page and you can fling it at the likes of Evernote, say. But
Carbo
tries something more ambitious. Your sketches and notes are cleaned up, and converted to vectors, while preserving your original stroke.
What this means is that images within Carbo retain the character of your penmanship, but are also editable in a manner standard photographs are not – you can select and move specific elements that Carbo intelligently groups, adjust line thicknesses throughout the entire image, add annotations and tags, and export the result to various formats.
It's a friendly, intuitive app to work with, and efficient, too – a typical Carbo note requires only a tenth of the storage as the same image saved as a standard JPEG photo.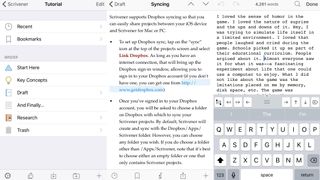 Scrivener
On the desktop, Scrivener is popular with writers crafting long-form text. On iPad, the app is - amazingly - barely altered from the PC and Mac release; but
Scrivener
on iPhone is a slightly different prospect.
That's not to say this isn't a feature-rich and highly capable product. You still get a solid rich-text editing environment and a 'binder' to house and arrange documents and research, before compiling a manuscript for export.
What you lose on the smaller screen is those features that require more space: a two-up research/writing view; the corkboard for virtual index cards.
But Scrivener is still worth buying - although you're unlikely to write an entire screenplay or novel on an iPhone, you can use the app to take notes, make edits, and peruse your existing work, wherever you happen to be.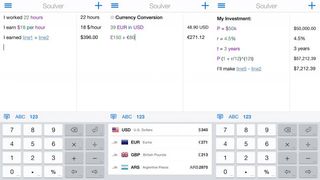 Soulver
Traditional calculator apps are fine, but even if they come with digital tape, you don't get figures in context. By contrast, a spreadsheet is overkill for most adding-up tasks.
Soulver
is a neatly conceived half-way house — like scribbling sums on the back of an envelope, but a magic envelope that tots everything up.
You get two columns. On the left, you type everything out, integrating words as you see fit. On the right, totals are smartly extracted. So if you type 'Hotel: 3 nights at $125', Soulver will automatically display $375 in the totals column.
Line totals can be integrated into subsequent sums, ensuring your entire multi-line calculation remains dynamic — handy should you later need to make adjustments to any part.
Given the relative complexity of what Soulver's doing, it all feels surprisingly intuitive from the get-go. There are multiple keyboards (including advanced functions and currency conversion), you can save calculations and sync them via iCloud or Dropbox, and it's even possible to output HTML formatted emails of your work.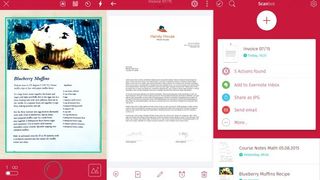 Scanbot
Free + $7.99/£7.99/AU$12.99 IAP
There are two flavors of
Scanbot
, each of which is impressive in its own right. For free, you get a superb iPhone scanner with cloud storage integration, QR code support, and the means to detect edges for any paper document you want to digitise. Upgrade to Scanbot Pro and things get more interesting. You can add pages to existing scans, quickly name files using a clever smart-naming system, and search/extract text from previous scans.
There's also an automated actions feature, where the app finds the likes of phone numbers and email addresses within your scans, turning them into single-tap buttons within each item's actions menu. It's not quite accurate enough to be witchcraft, but we nonetheless happily leave important scans within Scanbot these days, rather than immediately deleting after export.