Our favorite iPhone apps for making music, listening to podcasts and being a DJ.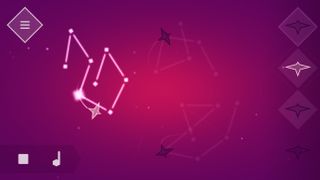 Songbirds
Songbirds
is a set of three artistic vignettes that are part meditative aid, part musical instrument. Each of them finds you crafting melodies by directing digital birds across vibrant, minimal scenes.
The best of them is called The Sky. It has you draw pathways akin to constellations, each 'star' playing a note when a bird moves over it. With support for up to four simultaneous melodies, you can craft surprisingly intricate sounds, and if you make something you love, tap record to output a video.
The other two options are The Lake, where you control the timing of birds diving into water, and The Flock, in which you use square 'moons' to record compositions played out on abstract keyboards. Neither quite matches the intoxicating joy of The Sky, but together, this collection is calming, engaging, and beautiful.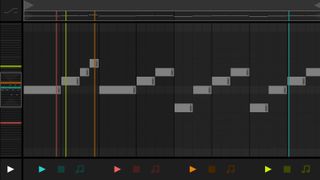 Fugue Machine
Fugue Machine
is a tool for making music based on compositional techniques used by Bach. That perhaps sounds dry, but stick with us, because Fugue Machine makes it astonishingly easy to create beautiful audio.
You tap out notes on a piano roll, much like in GarageBand. The twist is that in this app, there's only ever a single loop, but with up to four playheads moving over it. Each playhead is controlled independently, and this means you can play your loop at different speeds and pitches simultaneously, and in different directions.
The interplay of several variations of a melody quickly becomes hypnotic. For beginners, it's a great way to start making music. For professionals, it's also a must – not least given that Fugue Machine ships with comprehensive MIDI, AUv3, Ableton Link, IAA, and Audiobus support.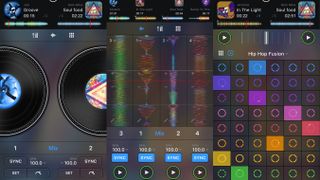 djay
Free + $4.99/£4.49/AU$7.49 monthly
djay
is a hugely powerful DJ app for iOS. Formerly released in various flavors, it's now universal and a free download. On install, you get a basic two-deck system with crossfader, looping, and some effects. Go pro, though, and a world of high-end DJ power opens up.
At that point, you can run up to four decks, and dabble in video mixing. You get over 1GB of samples, loops, and visuals to trigger. There's a ton of integration with a range of hardware solutions. Automix is available too, for when you can't be bothered doing the DJ work yourself.
On iPhone, it's naturally a bit fiddly compared to the iPad's relative acres – but it's also a very portable way to always have the app on you for experimenting with – and useful for hooking up to physical controllers.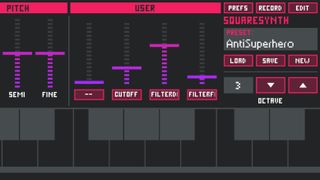 SquareSynth 2
SquareSynth 2
seems to have two reasons to exist. The first is to make you grin on selecting a preset, tapping a key, and having some retro audio blaze forth from your iPhone. The built-in sounds are reminiscent of noise you'd once have heard blasting from a Commodore 64 or NES; this in itself is all rather good fun.
But for musicians, this is a full-fledged synth. You can delve into each sound and muck about with its parameters – the results of which can be ear-thumpingly terrific. AudioUnit support also means this isn't an isolated box – the entire thing can essentially be squirted into GarageBand. Only the slightly awkward interface on iPhone when editing lets it down a touch – but the great sounds more than make up for that.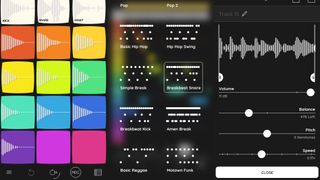 Samplebot
Samplebot
is a colorful grid of buttons that you use to capture sounds. Press a pad, make a noise, and it's then played by tapping the pad again. Fun stuff – but it turns out Samplebot has more layers than an onion.
Recorded sounds can be trimmed, and arranged in a sequencer. Pre-defined drum patterns are included, but you can also tap out your own. Beyond that, you can import audio from cloud services, Music, Files, or the clipboard, and manage sounds in-app. Tracks can be exported, and Samplebot can even be synced to other music apps.
In short, then, Samplebot is ideal for anyone wanting to make some noise, whether you fancy recording and playing back pots and pans being whacked, or creating entire songs.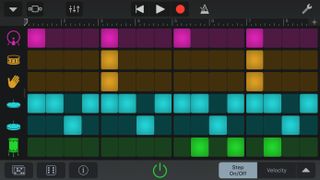 GarageBand
GarageBand
is a music creation app and recording studio. Ambitiously, it aims to suit newcomers and pro musicians alike – and it succeeds.
For newcomers, there are smart instruments that automate chords and riffs, and a grid pad for triggering samples and loops. Gain in confidence and you can plug in a guitar and use GarageBand's excellent range of amps, experiment with the timeline, and create drum patterns in the Beat Sequencer.
For pros, though, this app connects to other apps via Inter-App Audio and Audiobus, can 'import' entire third-party apps as Audio Units, and enables you to record, arrange and mix up to 32 tracks.
The app's a stunning achievement, and we suspect many long-time musicians can't believe such a thing exists on a phone.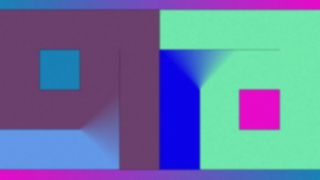 Brian Eno: Reflection
In a sense, featuring
Brian Eno : Reflection
in this round-up is a bit weird. Unlike other collaborations between musician Eno and software designer/musician Peter Chilvers, Reflection is broadly devoid of interaction. Instead, it effectively just plays Eno's ambient Reflection album, but with some clever twists.
Unlike the standard album, which is the same every time you listen, the audio here has phrases and patterns within that continually interact in different ways, and subtly change as the day progresses, creating an endlessly changing version of the music. Likewise, the painterly visual on the screen slowly morphs before your eyes.
It's pricey, but ultimately gives you endless Eno and is an intoxicating experience for anyone that likes their ambient fare. The man himself describes the app like sitting by a river: it's the same river, but always changing. By contrast, the standard Reflections album initially sounds similar, but it's a recording frozen in time, never changing.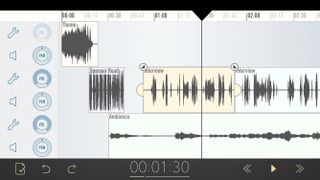 Ferrite Recording Studio
Free + $29.99/£28.99/AU$46.99
Ferrite Recording Studio
in its initial form appears similar to Apple's Voice Memos, but under the surface, this is a powerful multi-track editor. Pay the IAP and you get a full-fledged podcast creation studio right on your iPhone.
Of course, you don't have to delve into such complex fare. For free, you can work with a few tracks, make basic edits, and export your reworked audio. But pay money and you get eight-band EQ, a slew of effects, auto-leveling, and noise reduction. Project templates help you quickly create new podcast episodes, and presets can be created for chapters; said presets can be stored in templates or shared via iCloud.
This is top-notch stuff for creating podcasts on the go; and even if you usually edit on a PC or Mac, Ferrite works wonders as a sketchpad to bash out ideas on a commute.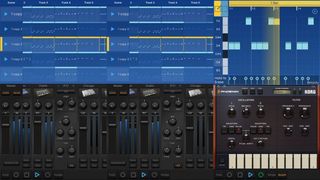 Korg Gadget
Let's immediately get one thing out of the way:
Korg Gadget
isn't cheap. It's not the sort of app you're going to download for some larks, use for a few minutes, and then casually toss aside. However, if you've any interest in making music — whether as a relative newcomer or jobbing musician — it is quite simply the best app available for iPhone.
Purely as a tool for live performance, Korg's app is first-rate. You get a bunch of miniature synths, referred to as 'gadgets'; they're geared towards electronic music, but still have plenty of range.
There are drum machines, a gorgeous bell synth, some ear-smashing bass instruments, and plenty of other options, whether you want to be the Human League for a bit or go all clubby.
Each synth comes with a slew of presets, but you can fiddle with dials and levers to make your own, which can be saved for later use.
When it comes to writing music, you can record live, tapping out notes on a tiny on-screen keyboard or by using a connected piece of hardware. Alternatively, there's a piano roll for tapping out notes on a grid as you do in GarageBand, creating loops to then combine into a song in the mixing-desk view.
Korg Gadget is one of the most flexible and intuitive music-making apps we've seen on any platform, and the deepest on iOS. It was superb on the iPad, but that it actually works — and is very usable — on iPhone is nothing short of astonishing.