Our favorite iPhone apps for planning a holiday, currency conversion, weather forecasts and mapping.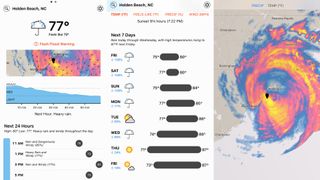 Dark Sky Weather
The main forecast page shows current conditions and a local map. Usefully, little arrows denote the direction a storm's heading, so you can always spot that at a glance, rather than having to check the full animated rainfall view. Below that you get rainfall predictions for the hour, the daily forecast, and a weekly outlook. It's all very sleek, efficient and usable.
The app's accuracy may vary by location, but during testing in various countries we've found its rainfall predictions to be spot-on. It's also a nicely flexible app regarding warnings – several notifications are built in, and you can add your own based on a range of weather conditions.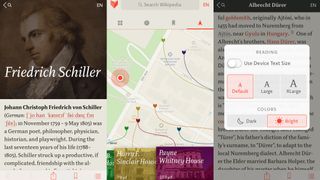 V for Wikipedia
Although V can be used to search Wikipedia in the normal way, it starts off in its Nearby tab, flagging articles of interest in your vicinity. This looks great, tabs snaking their way from map locations to large thumbnails. It's practical, too, for finding out more about the local area, without resorting to review-oriented web services.
This sense of polish extends to the article views. Typography and layout are first class, and a slide-in contents list is only a tap away. So while you might narrow your eyes at the prospect of paying for a Wikipedia reader, Viki will have said eyes busily and regularly reading the world's most dynamic encyclopedia.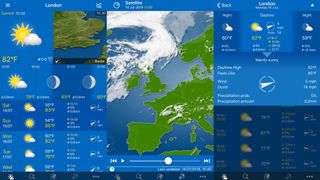 WeatherPro
For any selected location, a single screen shows the current conditions, a local radar, upcoming predictions and then a forecast for the coming week. The latter packs temperatures, sun hours, precipitation forecasts and wind speeds into a tiny space.
In pretty much all cases, tapping on something lets you delve into even more information, and additional taps provide layered mapping and radar services. Accessing some layers requires an IAP subscription, but just the bare-bones WeatherPro is a great buy if you want at-a-glance forecasts packed with detail.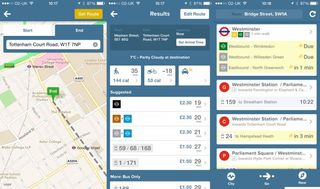 Citymapper
If you live in or visit a supported city, Citymapper is superb for helping you find your way around more efficiently. The app quickly finds where you are and offers options – in real-time – of how to reach your intended target.
And small details really help it stand out, such as you being able to track the location of a bus you're waiting for, alerts that blare when your stop's coming up, and even recommendations of the best carriage to get on – and the fastest station exit to use.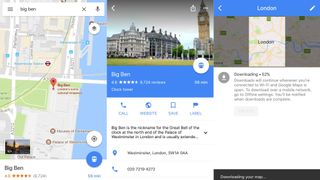 Google Maps
It's extremely good at locating places you want to visit, be that a distant town or a point of interest like a restaurant or store. When it comes to turn-by-turn driving directions, the voiceovers lack the nuance of Apple's Maps, but the actual directions tend to be more helpful when it comes to dealing with incidents like congestion.
Google Maps is great for planning and non-car use, too. There are reviews and recommendations for places to go, public transport routing, and Street View – a navigable 3D street-level map for scoping out landmarks that proves handy when traveling somewhere or visiting a new place.
Importantly, you can also download chunks of map for offline use, turning Google Maps into a turn-by-turn navigator even when you lack a data connection.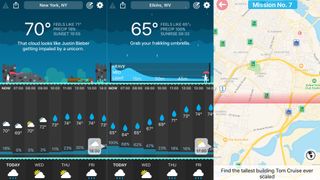 CARROT Weather
Venture into the excellent Today view widget and CARROT will 'LOL' if it's going to rain. If it's sunny, she'll hope you get tan lines, call you a meatbag, and suggest you make the most of the nice weather – "or else".
It's uniquely entertaining in its App Store category, but also usable, colorful, and configurable. The maps are extremely variable by country, and some layers require IAP – as do a number of useful settings. But otherwise this is one of the best – and certainly the most fun – weather apps for iPhone.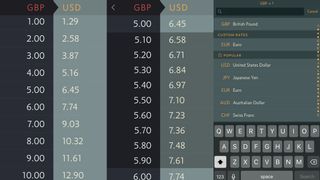 Elk
We've lost count of how many currency converters exist on the App Store, but it's vanishingly rare to see anyone try something properly different.
On firing up the app, you select your two currencies and it offers a list of current rate conversions. For USD to EUR, for example, you get a list of the rates for one through ten dollars. Swiping from the right increases these values by ten. To access rates between two values, tap an entry.
Smartly, you can also input a fixed rate, for example to track your spending on a holiday when you've already got your cash. Most of the features are behind a paywall, but a 14-day trial lets you try them for free.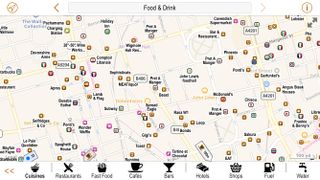 Poison Maps
So, mooching about London and fancy a bite to eat? Tap on the food and drink icon. Something quick? Tap Fast Food. Pizza? Sounds good.
Each tap filters the POIs and navigation buttons displayed, and arrows point at nearby locations when you're zoomed in. Everything's extremely responsive, and the maps and icons are clear and easy to read. Other nice bits include a full-screen mode, a search function, and public transport overlays.
The only snag is Poison Maps is a gargantuan install – well over 1GB. If that's a bit rich, smaller regional alternatives by the same developer exist, each being a free download with a small IAP to unlock all categories.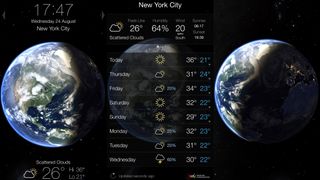 Living Earth
Tapping the forecast quickly loads an outlook for the entire week; prod the clock and you'll get the weather and time in each of your defined locations.
What sets Living Earth apart, though, is the globe at the screen's centre. This provides a live view of the planet's weather - clouds, by default, which can be swapped for temperature, wind and humidity.
We like the clouds most, along with the way the virtual planet can be slowly spun with the slightest swipe. It'll then lazily rotate between zones in daylight and those lit up after night has fallen.